Capt. Bob Brown, Jr.
Growing up at a marina and becoming a Captain at age 18, Capt. Bob has literally lived most of his life out on the water. Even after 30+yrs as a Lake Erie fishing guide, Capt. Bob has a huge passion for fishing! Giving the customer a high quality experience on the water every day is his mission. As a full time year 'round guide, Capt. Bob has fished all of Lake Erie, up and down the eastern seaboard including the entire FL Keys and South Florida. Spending many years as a guide and tournament fisherman, he has the experience to put you on the fish, and keep you safe out on the lake.  Teaching his clients how to cast and catch Walleye and Bass are one of his specialties.  Going for the large trophy sized fish are also one of Bob's specialties. Always chasing the big ones and getting them CASTING is what separates Bob from a lot of other Lake Erie guides. Capt. Bob has been a consistent top performer in Lake Erie Walleye, Smallmouth Bass & Perch tournaments.  To quote Capt. Bob: "Having you catch the largest Walleye of your life, or teaching young people the wonders of Lake Erie for the fist time and plant the seeds of outdoor life in their minds are the main reasons I still love what I do after all these years".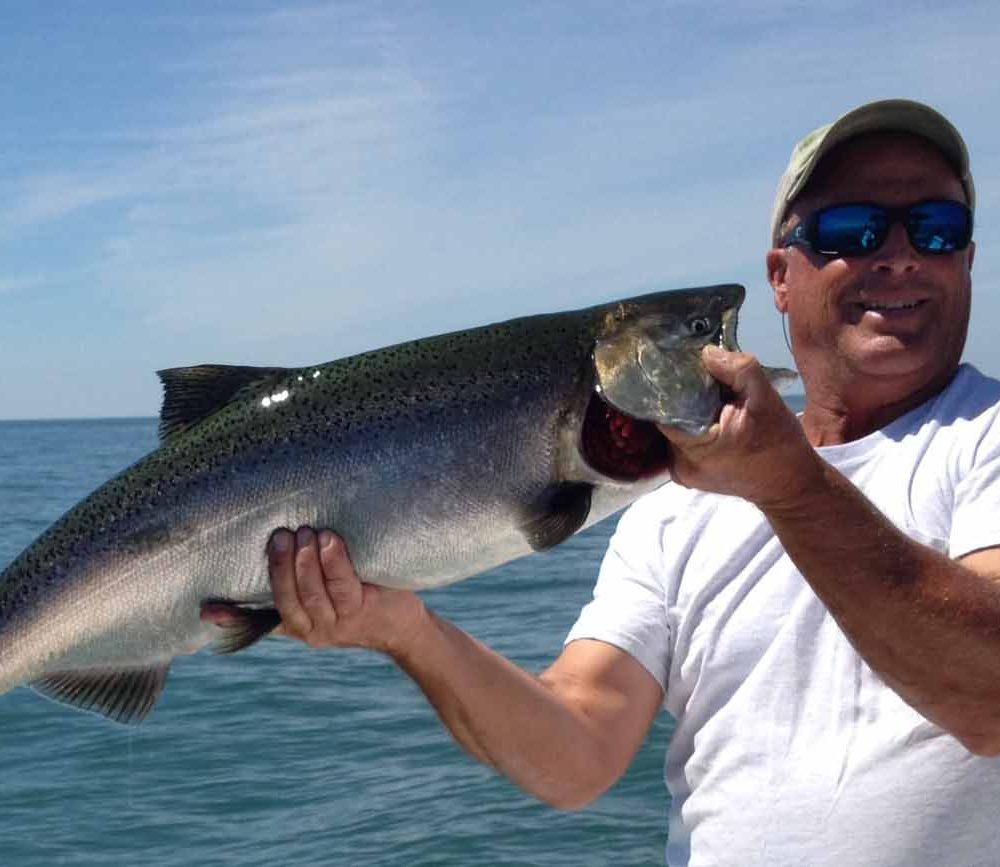 Captain Bob has been fishing Lake Erie since the early 1970's as a kid with his father. Then started Sundance Sportfishing in 1979, logging 200 to 300 fishing trips per year. Captain Bob has completed numerous bad weather rescues of other boaters over the years. Captain Bob has also been an outdoor writer for several magazines and newspapers, done radio and television shows most recently on the Outdoor Channel's "School of Fishing" weekly show. Capt Bob is also an experienced, courteous and hard working guide who wants to put you on the fishing trip of a lifetime!
Our Boat
32′ Century "Sundance" Fish Bow to Stern on this totally open fisherman! Powered by 2 new Yamaha 250 4 strokes! Equipped with latest in electronic and safety equipment:
Latest GPS Mapping Navigation
Video and LCD fish finders
Marine radio
Private restroom facilities – especially for the ladies!
Fully insured
Stable wide beam
Fast – Get to the fishing sooner!
Our Lake Erie fishing charter boat will help you find the big fish on your next fishing adventure. Welcome to Sundance Lake Erie Fishing Charters. The fishing will be fabulous when you book a fishing charter on Lake Erie. A fishing vacation can offer some fun times and great memories with the guys, the gals or the family. Our fishing charters allow you to catch a variety of exciting freshwater sportfish aboard our boat. We specialize in customizing your fishing experience to meet your fishing goals. We are experienced and courteous Anglers and have the knowledge to ensure your safety and your success. Our goal is to give every one of our customers a quality fishing experience. Since 1980, we have been putting our customers on the fish. Give us a call today (419) 656-3966 and set up the fishing trip of a lifetime!